NAMI Education Series is a program designed to better inform those who have or know someone affected by mental illness. How do we do that? By hosting and offering several presentations to our community!
Presentations:
Hearts and Minds-A program designed to encourage, teach, and promote a healthy lifestyle for the mind and body.
People who live with mental illness are often at higher risk for heart risk factors such as cigarette smoking, obesity, diabetes, elevated cholesterol, and hypertension (high blood pressure)- all of which can be made worse by some anti-psychotic medications. Much of that risk is preventable: knowledge is power.Certainly, living with mental illness can be quite a challenge already. NAMI Hearts & Minds offers a wealth of information. You do not need to figure this all out at once – NAMI Hearts & Minds will show you how to take it one step at a time. You are worthy of a happy, healthy and long life. Knowing the risks will help you make informed choices that can make that happen. When you are ready to work on one of these areas, focus and get going.
Healthy Bodies, Healthy Minds- Focusing on improving physical and mental health.
Chair Aerobics, and MORE!
In Our Own Voice

NAMI In Our Own Voice presentations change attitudes, assumptions and stereotypes about people with mental health conditions.
presentations provide a personal perspective of mental illness, as presenters with lived experience talk openly about what it's like to live with a mental health condition.
Ending The Silence

NAMI Ending the Silence is an engaging presentation that helps audience members learn about the warning signs of mental health conditions and what steps to take if you or a loved one are showing symptoms of a mental illness.
This program is for Middle and High School Students
COMING SOON! Ending The Silence for School Staff and Ending the Silence for Families
Other topics presentations have covered:
Guardianships in Wood County
How to find help
Medicaid expansion
Advocacy
Eating Disorders
Why You Should Attend?
The road to recovery can sometimes be a scary one with many unknown or confusing factors. Our goal is to provide information that makes this path easier to navigate.
Next Presentation: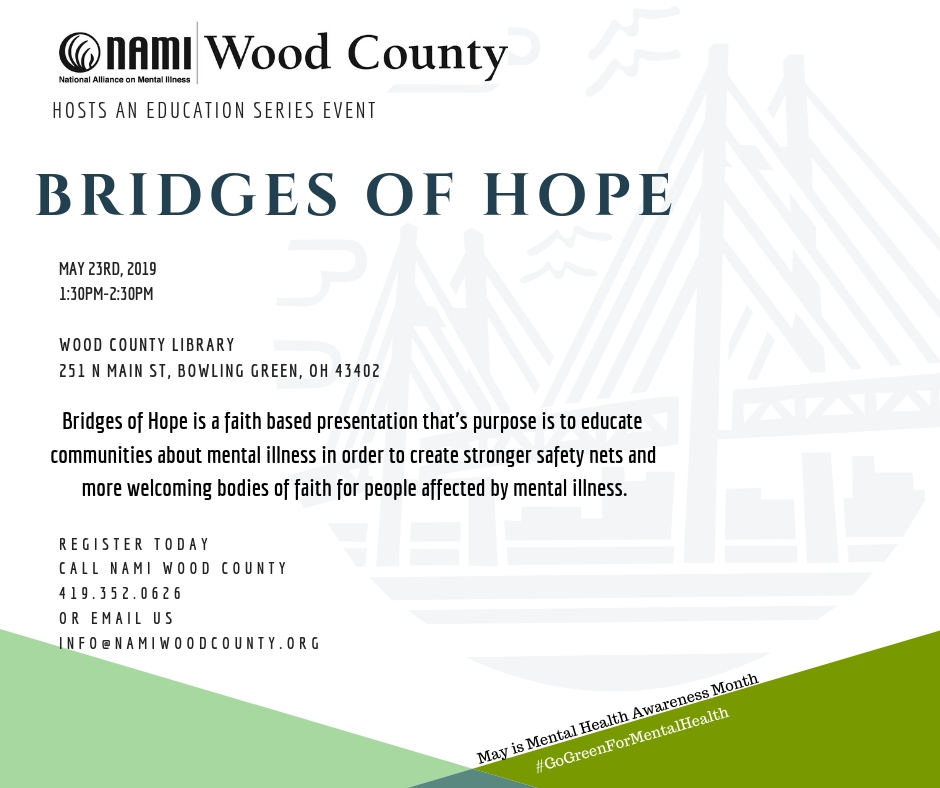 Presentations are held at a variety of locations. Details will be announced closer to the time of the event on our Facebook page, website and our newsletters.
REGISTER HERE