What is StigmaFree Company?
The goal of the StigmaFree Company Initiative is to strengthen relationships with local companies and equip them with vital mental health resources and education to promote a more accepting, supportive, and productive work environment.
Why is StigmaFree Company vital to the community?
Mental illness affects 1 in 5 people in the United States. It does not discriminate based on race, gender or background. When people living with mental health conditions are defined or labeled by their illness, they may become part of a stereotyped group that experiences shame, blame and secrecy. This negatively impacts employees in the workplace because it leads to toxic work environments which prevent employees from talking about mental health and seeking treatment.
How can we work with your company?
Locally, we will be working with companies throughout Wood County to equip them with vital information and tools to help them support and assist their employees who may be experiencing a mental health challenge. This will include conversations about polices pertaining to employee wellness, how to identify the signs and symptoms of a mental health condition, how to approach and support an employee who is experiencing a mental health challenge, and how to promote a more accepting and inclusive environment by using non-stigmatizing language. Furthermore, we will connect companies to local resources where individuals can seek treatment and support for their mental health conditions.
In addition, NAMI Wood County offers cost-effective mental health trainings for businesses and organizations. These trainings include: Mental Health First Aid, QPR (Question, Persuade, Respond), NAMI Provider, and general mental health presentations. Please see the training packages flyer below for more details.
I am interested in being a Stigmafree Company, How do I sign up?
We realize that a one size fits all approach to working with businesses is not effective. Therefore, we want to know your company, including: your company's work culture, demographics, and previous understanding of mental health materials and resources. We ask that you fill out the company survey to express your interest in StigmaFree Company. After we have received your survey, we will reach out to you and discuss the next steps. Together, we can work to see the person, not the condition.
keyboard_arrow_leftPrevious
Nextkeyboard_arrow_right
Information about Training Packages:
---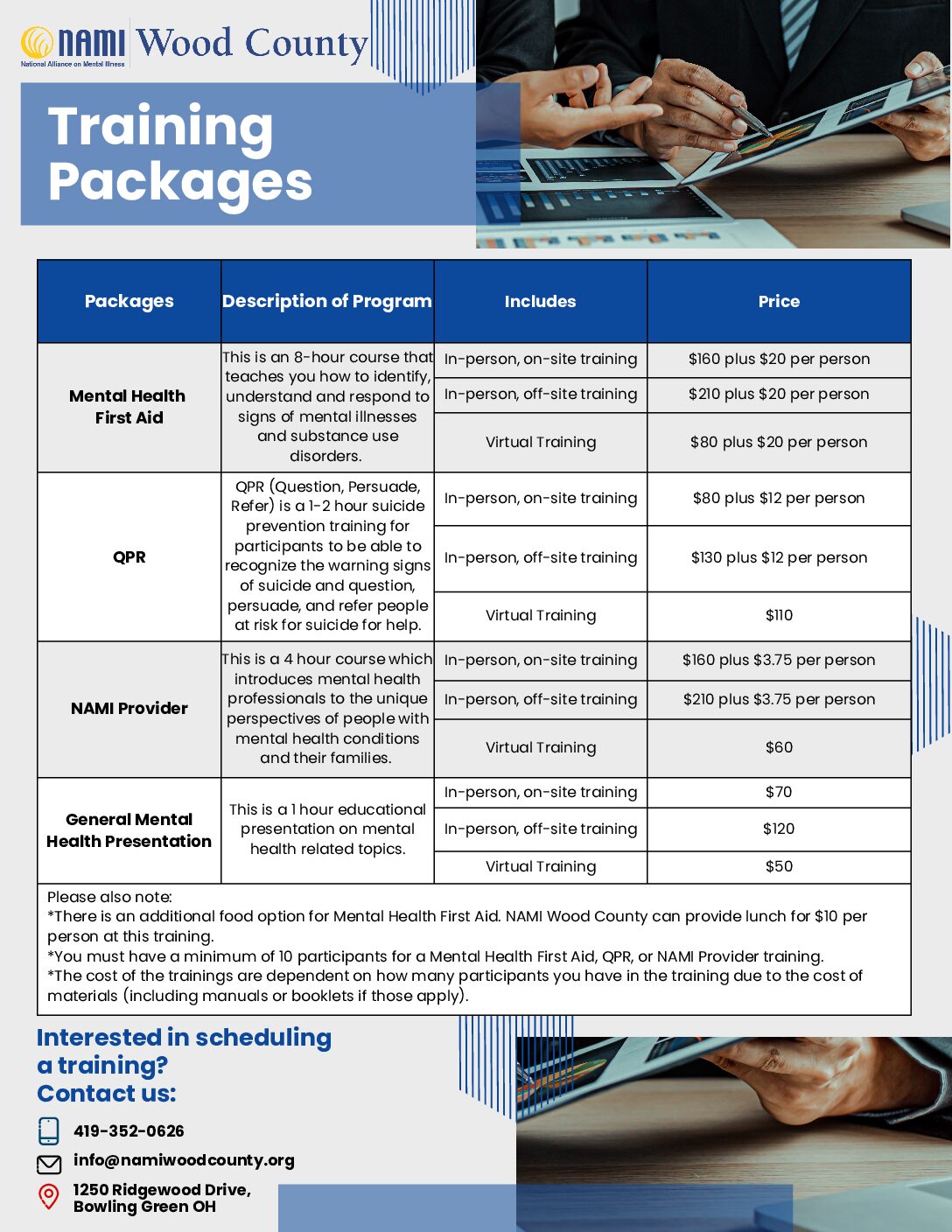 ---